We are very happy to offer the free use of two mobility scooters to enable more people to explore and enjoy Seven Sisters Country Park.
These are free to use but a donation for use would be appreciated. This will go towards maintenance of the vehicles for other visitors to enjoy.
What type of scooters are they?
They are electric all-terrain mobility scooters designed to cover rough ground and grass safely. They can go up and down slopes, over bumps and tree roots, through shallow puddles and across some mud and soft ground. Both are limited to 4mph in our park.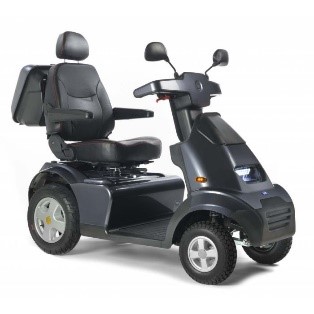 Find out which model would be best for you to use.
Who can use them and where?
The scooters can be used by anyone with reduced mobility, no previous experience is required.
The scooters are for use on the main accessible paths of Seven Sisters Country Park, enabling you to enjoy the meanders and wildlife that live in the habitats here.
How do I book and contact you?
You can book for yourself or for another person to use. Please either pop in or call the Visitor Centre on 01730 819341 between 10am and 4pm. You can also email us: sevensisters@southdowns.gov.uk
Your booking entitles you to a two hour session, but you can return the scooter before then. Choose between either 10am-12pm and 1pm – 3pm (subject to availability).
What do I need to do on the day?
Check in at the Visitor Centre on arrival with the following
Charged mobile phone for contact.
Photo ID that we will store securely whilst you are using the scooter.
An accompanying, adult walker. (There are some gates that would need to be held open for you.)
Donation – optional but suggested amount of £5 (cash & card accepted).
The scooter will be on the far side of the road from the Visitor Centre where you will be given a briefing/user induction. If you are unable to walk across the main road, please use the south carpark and your walking companion will be able to book in for you.
Are they easy to use?
Both scooters are very easy to use, and you will receive full training before you set off.
What if I'm late or have to cancel my visit?
If you are no longer able to keep your booking please let us know as soon as possible so we are able to offer the space to another user. It would also be very useful to know if you are running late.
What if you need to cancel my booking?
It is your responsibility to ensure that all details are correct at the time of booking so we can contact you. In exceptional and unavoidable circumstances (such as breakdown or adverse weather conditions) your scooter may not be available on the date booked. All reasonable efforts will be made to inform you in advance, using the contact details you have provided.
Terms and Conditions for use
You will be asked to sign a copy of these prior to using the scooter.
I am responsible for my own safety and I will use the scooter as instructed by staff and with regard for the safety of other visitors, wildlife or grazing animals and the weather.
I will only use the recommended routes and not access other areas and I understand that doing so may affect my safety and would be entirely at my own risk.
I understand my use can be refused if it is suspected that I cannot complete the safety demonstration, am aggressive or violent towards others or I do not agree to these Terms and Conditions.
I am 14 years of age or older and understand that my walking partner will be with me at all times and we will carry a working mobile phone.
I agree not to use the scooter when under the influence of alcohol or drugs, or medication which could affect my ability to safely operate it.
I will not allow anyone else to use the scooter, carry passengers or animals, or be in control of a pet (registered Assistance Dogs permitted).
I agree to notify staff of any incident, accident, damage or operational difficulty.
I will return the scooter within the agreed time and understand that failure to do so will initiate emergency/recovery procedures.
I agree to leave photo ID, which will be returned to me when I return the scooter in the same condition as when it was issued.
I agree not to leave it unattended, unless I have removed the key and kept it with me.
I agree to pay the full cost of any necessary repairs resulting from misuse of the vehicle.